Top 10

Best Toasters of 2021

Options considered: 40

Last updated: May 2021
Morning shows the day.
This is a belief that one's breakfast has a long-lasting effect on how one's day will go. Furthermore, there's no doubt eating a good and healthy dish goes a long way to affect one's body system.
A fine plate of egg, toast, and tea is a norm among Canadians for breakfast. More so, you'd discover that it's the regular choice of your kids for breakfast. Considering all of these, a toaster in your kitchen is indispensable. A good toaster at that!
ReviewFinder is reader-supported. When you buy through links on our site we may earn affiliate commission at no cost to you.
[close]
Our Ranking Criteria
In short, we do the research for you.
You probably don't have time to read through reviews of top 40 products
. We go through reviews for you, and try to paint a decent picture of your best options. We rank the products based on 4 weighted criteria:
customer reviews [30%] - how customers rated this product? Literally, the higher, the better.
popularity [30%] - how many people seem to buy this product compared to other options.
brand trustworthiness [15%] - the more other high-rated products by this brand, the more trustworthy we consider the vendor
value for money [25%] - adjust the above for price. If there is a better option for lower price, product is ranked higher.
What about the price?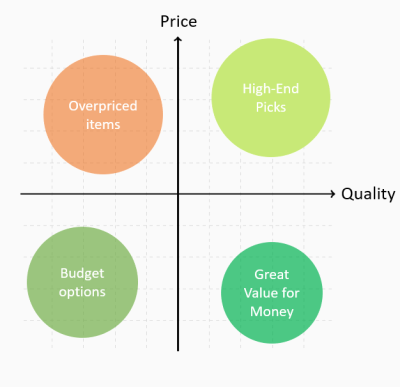 Price only accounts for 25% of the score because price is a tricky thing. It boils down to your individual preference - do you want to go higher-end or budget?
Ideally, we try to recommend better-featured items that have a lower price and high customer score, but in most cases you can't espace the fact that extra features/quality cost extra money.
Please take a look at the price chart for toasters to see the best picks in each budget.
Price ranges for best-selling Toasters:
We made a price chart of the top selling Toasters (see below). Budget options
start at C$22.88, going up C$194.60.
The most popular option is priced at C$79.99, which is on the pricier side.
WHAT IS THE POINT OF A TOASTER?
A toaster is a popular kitchen device used for making toast. It exposes bread, mostly sliced ones,, to heat which turns the bread brown, so it becomes toast.
A toaster is a common appliance in Canadian homes. The point of a toaster is to make brown and tasty sliced bread which are referred to as toasts. Toasters come in different types, sizes, and designs which are available for purchase. Toasters give you a delicious and healthy meal as well as comfort.
There are different types of toasters. However, the two basic types are:
-Pop-up toaster
- Conveyor Toaster
POP-UP TOASTER: These come in two slices and four slices. The pop-up toasters are oftentimes referred to as just "toasters." They are designed for toasting. Most of the pop-up toasters work best with smooth sliced bread, while some work for larger-sized pastries like bagels.
They are easy to use and affordable.
CONVEYOR TOASTER (TOASTER OVENS): These are also called counter-top toasters. They are used for making toasts and other forms of cooking. They are at times a substitute for ovens because it has an oven and grill. There are conveyor toasters with four, six, or nine slices of toast at once. This is ideal for a large family. They are quite expensive than pop-up toasters, and they are versatile because they serve a variety of functions.
Other types of toasters include:
Tin toasters: This is a grand-mother kind of toasters. They are stale and no more in vogue. They are usually exposed to fire so that the bread can get heated up and become brown.
Traditional bread toasters: These are very common. They have two bread slots. It toasts only one side of the bread. Thus, the bread has to be turned to get the other side done. They create stripes on the toast as well.
WHAT ARE THE MAJOR DIFFERENCES BETWEEN POP-UP TOASTERS AND TOASTERS OVENS?
A toaster oven is the big daddy of pop-up toasters.
Nonetheless, pop-up toaster browns your bread better than toaster ovens while in contrast, a toaster oven helps to warm your burger and sandwich or make roasted chicken.
Toaster ovens take more time when toasting compares to toasters. For instance, a toaster oven will take about two to nine minutes to toast, while a toaster will take around one to four minutes.
A pop-up toaster leaves stripes on the bread, which a toaster hardly does.
Also, a pop-up toaster is easier to clean than a toaster oven.
WHAT ARE THE BENEFITS OF OWNING A TOASTER?
With a toaster in your possession, you can have a quick breakfast of crispy or crunchy tasty bread with coffee before rushing down to work. A toaster is a must-have for the following reasons:
It is easy to use: with just the turning of one or two switches, you are good to go.
It prepares food fast: a quality toaster is speedy. Be sure to brown your bread as soon as possible so you do not run late for classes or work.
It is moderate: a regular toaster does not take up a lot of kitchen space as most kitchen appliances do.
Easy to clean: cleaning your toaster is not much of a big deal. It is simple and easy.
Besides, the toaster is beyond a gadget just for toasting bread. If you read along, you will discover the other foods you can prepare with a toaster.
FEATURES TO CONSIDER BEFORE BUYING A TOASTER.
Before buying any kitchen or home appliance in Canada, you must be knowledgeable about some particular things to look out for before buying them. For toasters, here are some basic things to look out for before purchasing one:
•Removable trays: this will help for the easy disposal of bread crumbs remaining on your tray.
• Melting features: this is not available in all toasters, which is why you should look out for it. It easily turns your frozen bread brown soon.
• Slot size: as a toast fan, consider the number of slots that will suit you before getting a toaster. There are popular two and four slots. However, three slots of toasters also exist. Although not common.
• Browning control: the more the browning elements in your toasting slots are apart, the more likely you are to get patchy toast. This means you should make a good check on the slots before you purchase the toaster.
• Portability: a portable toaster will not take up too much space and can be carried easily for travelling.
• LCD Display: This is a modern feature. It displays your timing and heat temperature.
• Wider shade range: A toaster with a wider shade range gives you an option in picking your bread's shade while toasting.
In all, make sure your toaster is of high quality and in good shape upon purchase.
WHAT SIZE OF TOASTER SHOULD I PURCHASE?
This question is for you to answer because the size you get would be based on preference, family size, and quantity of bread that you will be toasting. Also, the design and model are left to you to decide. The traditional toasters and pop-up toasters are however ideal if you live alone or with your partner. Whereas, if it is a large family, a toaster oven will do the trick because it has more bread slots so, more bread gets toasts in less time.
WHAT IS THE IDEAL TOASTER WATTAGE?
Toaster wattage is the electricity usage of a toaster. The bread toaster uses from 800 to 1500 watts of energy. Averagely, a toaster with two slots will do well with 1000 to 1200watts, while a toaster with three to four slots will do well with 1500 to 1800 watts.
The gist is that the higher the wattage, the better. And why is that? A higher wattage makes a toaster more powerful, causing it to work faster. Thus, turning your bread into tasty, crunchy, and chewy toasts in a jiffy. If your toaster has lower wattage, the bread will most likely be less crispy and crunchy, hence inferior.
TOASTER VS CONVECTION OVEN
Toaster ovens are sometimes a substitute for convection ovens. The main difference between a toaster and a convection oven is the fan. Convection oven carries out more tasks than the toaster ovens. Recently, there has been a development of conventional toaster ovens, which are somewhere in between the regular toasters and convection ovens.
Toaster ovens are suitable for warming foods that will not size a simple toaster—for example, croissants, muffins, and bagels. However, the toaster takes more energy than a built-in convection oven for simple tasks like warming pastry and pizza. A toaster oven also takes up more kitchen space than convection ovens that are usually fitted in the kitchen wall or counter.
In addition to the above mentioned, you should know that toaster ovens do not cook food fast like convection ovens. Convection ovens also work to heat food more evenly than the toaster ovens because their fan heating process is different. Notwithstanding, if you opt for a high-end toaster oven, it will most likely heat your food evenly.
In general, toaster ovens are good for making toasts and warming food, while convection ovens are good for baking and grilling.
WHAT ARE THE PARTS/ACCESSORIES OF A TOASTER?
A regular toaster should have a lever, heating element, spring, bread rack, heat sensor, trip plate, electro-magnetic catch, and browning control. Let's take a quick tour to see their functions:
Lever: This is a handle that is used to lower the bread.
Removable Tray: Not all models come with this. However, a removable tray helps to empty bread crumbs easily.
Control buttons: This is used to moderate the toasting period. Some are in the form of lights that turn off once the bread is toasted.
Heat sensor: controls the heat and toasting rate.
Knob: this moderates the roasting time and temperature.
Spring loader: used to carry the toast out of the toaster once it is done.
Timer: before you start to toast, you will have to set the toaster. The timer uses the already set time to determine the time needed to reach the temperature selected and locks the lever until that time.
Toaster accessories are supplementary parts that can be purchased separately from the device. They include:
Tongs: This will keep your fingers safe from burning. They are often made of stainless steel, silicone, or bamboo.
Toast racks: These are mostly warming racks, which help to warm toasts. They are also used to cool and dry toasts and can also be used to serve toasts. Some are designed in horizontal style or camp-stove style. Lovers of toasts make use of toast racks.
Sandwich cage: In Canada, people love cheese and sandwiches. For your safety, you do not need to use your fingers to take out your sandwich or banana bread. Just use the sandwich cage handle.
Toast cover: This is used to safeguard the toaster from being tampered with by kids or pets in the house. It fits well on the toaster and also keeps it from dust. It also serves as a form of protection.
Toaster leaning brush: Cleaning your toaster is necessary for its durability. This cleaning brush will make cleaning much easier. You get a neat toaster with no crumbs after cleaning with this.
Reusable toaster bags: They help to keep your toaster free from the mess that might be left when you make sandwiches. You can place them in your toaster before placing a sandwich inside. That's the magic- Brown bread, clean toaster!
APART FROM BREAD, WHAT ELSE CAN I TOAST?
If you think a toaster is only meant for toasting bread, then, meant for toasting bread then, you must be out-of-date. It can be used not only for making toasts but also for making a variety of breakfasts.
Here are examples of food that can be prepared with a toaster are:
• Resto sandwich
• Veggies pastries
• Reheated pizza
• Garlic bread
• Bagel pizza
• Panini
• Grilled cheese
• Veggie burgers
• Garlic bread
• Burgers
HOW IS A TOASTER OPERATED?
Operating a toaster is not much of a big deal as the device is user-friendly. Here is how you'd go about it.
• Adjust the knob: the knob is to choose how dark you want your toast.
• Slide-In: Slide your toast into the toaster slots and cover the lever.
• Wait: wait around for till the toast is done to avoid a burnt slice.
If it is a pop-up toaster, once the lever pops back, it is done. For a toaster oven, it will turn off itself.
Toasters are quite pocket-friendly; not very expensive. If you check through our site, you will find that you do not have to break the bank to get one.
To clean a toaster, you will need warm water, dishwashing soap, baking soda, white vinegar, melamine sponge, pastry brush, sink, sponge, microfiber, and trash can.
Guidelines to Follow
• Disconnect the toaster from electricity.
• Move towards a trash can and shake crumbs into it by turning it upside down. However, if the toaster has a removable tray, you can remove it and shake off the trash.
• Mix water, dishwashing liquid, and vinegar. Then dip a foam into it.
• Clean the interior with foam. If there is a removable tray, keep the tray in the solution.
• Dry with a cloth.
• Clean the exterior of the toaster with foam.
• Dry the exterior with a cloth.
• Keep in a cool and dry place.
The life expectancy of a toaster is said to be between six to eight years. However, toasters can sometimes last as long as ten to fifteen years without calling for a repair.
Although, if poorly used, it may not last as long as the above-stated period.
ARE THERE WARRANTIES FOR TOASTERS?
People are happy to hear about a warranty because of the return, refund, and repair policy. It is an attractive offer for most customers as it gives the needed relief that your money doesn't go to waste. Most toasters have a warranty but, make sure you are relying on the warranty within the stipulated period.