Top 10

🥇 Best Sewing Machines of 2021

Options considered: 40

Country:
Canada
Last updated: March 2021
Ranking criteria: value for money, customer reviews, popularity, brand trustworthiness
Behind every stylish dress, there has been proper picking of fabric, style, measuring and sewing. The sewing is not done through any abstract means but through the use of a sewing machine. If you are an aspiring seam-mistress, beginner, fashion designer or just a fashion enthusiast who derives pleasure from sowing clothes, home décor, upholstery, quilting or embroidery, we want your sewing experience to be less stressful and rewarding. Therefore, you are in the right place as this guide was compiled with you in mind.
About ReviewFinder
We do the research for you - our full time job is researching products and reading reviews. We have no "fancy algorithm" - our team manually decides which products are the best by looking through reviews. We only make money if you purchase a product through our links, and we're determined to simplify your purchasing decisions.
ReviewFinder is reader-supported. When you buy through links on our site we may earn affiliate commission at no cost to you.
Top 10
More information on the best options.
[close]
Our Ranking Criteria
In short, we do the research for you.
You probably don't have time to read through reviews of top 40 products
. We go through reviews for you, and try to paint a decent picture of your best options. We rank the products based on 4 weighted criteria:
customer reviews [30%] - how customers rated this product? Literally, the higher, the better.
popularity [30%] - how many people seem to buy this product compared to other options.
brand trustworthiness [15%] - the more other high-rated products by this brand, the more trustworthy we consider the vendor
value for money [25%] - adjust the above for price. If there is a better option for lower price, product is ranked higher.
What about the price?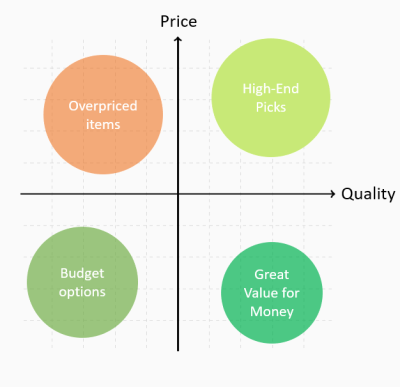 Price only accounts for 25% of the score because price is a tricky thing. It boils down to your individual preference - do you want to go higher-end or budget?
Ideally, we try to recommend better-featured items that have a lower price and high customer score, but in most cases you can't espace the fact that extra features/quality cost extra money.
Please take a look at the price chart for sewing machines to see the best picks in each budget.
In a nutshell: 3 most popular options
Price ranges for best-selling Sewing Machines:
We made a price chart of the top selling Sewing Machines (see below). Budget options
start at C$67.99, going up C$617.25.
The most popular option is priced at C$318.20, which is on the cheaper side. We definitely recommend checking it out.
Click on a product in the chart for more info.
What are sewing machines?
A sewing machine is a mechanical or electro-mechanical device used to stitch or sew clothes or other materials with the help of a driving needle or thread. The sewing machine has greatly improved the industrial market and eased home-usage. It helps to perform sewing tasks on both a large and small scale. The mechanical sewing machine is a huge replacement for the manual sewing machine which was used before the industrial revolution.
The modern sewing machines are convenient as fabrics easily glide in and out of the machine without the stress of the needles and thimbles which were used in those days.
What types of sewing machines are available?
We've got you covered on the different types of sewing machines in order to help you understand better.
Basically, there are two types of sewing machines which are domestic and industrial machines. These types are further divided.
Let's talk about the different types of domestic sewing machines.
• Mechanical sewing machine: They are Grandma's sewing machines which were often attached to their tables and built of metal and steel which made straight stitches. They work by pressing the handle and turning the wheel.
• Electromechanical sewing machine: There are a lot of them on market and they offer different stitches and stitch lengths- straight, zig-zag, decorative and at times button-hole options. They function by turning the knob.
• Electronic machine: There are portable electronic machines. However, they can not be used for a different kind of sewing. It is best for small projects.
• Computerized machines: It's the internet age and people are going tech savvy so, it shouldn't surprise you that this sewing machine comes with an LCD screen and some programmed features. These features include automatic threading, automatic cutting, embroidery stitches,button-hole features, tension control e.t.c. They however are quite expensive.
• Embroidery machine: this is used to create patterns on fabric. Embroidery is often used for creating company logos, adverts and so on. It is also used for creating stylish decorations and adornments on clothes.
• Quilting machine: This is used for stitch through layers of fabric in rows or a particular pattern. They often occupy larger space.
• Serger machine: Literally, it can be said to cut and sow seam allowances simultaneously.
Industrial sewing machines:
These are able to carry out multiple tasks and to perform on different fabrics. They are mostly used for large projects with tough materials e.g Leather, upholstery, rubber and canvas. The different types of industrial machines carry out a specialized function. They are all built with metal body and interior. They are operated with more skill compared to the domestic machines and are more expensive than the domestic ones.
Mechanical vs Computerized sewing machines?
Most of the machines in vogue are computerized ones. They come with a large enough LCD touch-screen for adjusting your stitch width, length and style. The mechanical sewing machine on the other hand are basically controlled manually and can carry out a handful of tasks but do not have those fancy and computerized features. Computerized sewing machines are more expensive than mechanical ones. They are portable, fun and very easy to use.
The modern mechanical sewing machines are not very heavy compared to the vintage ones. They have been developed to suit buyer's demands. So, if your budget is not so high, you can stick to the mechanical sewing machine. If on the contrary, you have substantial to spare, why not opt for the computerized one. There is absolutely nothing to lose.
Should I buy a combined sewing and embroidery machine or separate ones?
In order to save yourself a fortune, it is advisable to buy a combo sewing and embroidery machine rather than separate. We know you might be in doubt about the features but the quality combo sewing machine is worth the price and will do great jobs. However, if you buy these machines separately, you might be blowing away more dollars.
What are the latest features to look out for in a sewing machine?
New and improved sewing machines are subsequently produced and here are some latest and essential features to look out for which will make your sewing less stressful.
Stitches: Sowing machines offer stitches that range from 20-500 and more. However, the ones that you will eventually use are minimal. You should look for a machine with variable length straight stitch, zig-zag stitch, stitches that can sew stretch fabric, back-stitch and more importantly the button-hole stitch. Other extra stitches to look out for are hemming, embroidery, quilting e.t.c.
Automatic needle threader: Changing threads from time to time can become a herculean task. Thus, a needle threader will ease you of this stress. There are automatic needle threader as well as manual ones.
Lighting: Sewing machines have been developed over time and some now come with bright lamps that will help you sew conveniently because your eyes might get tense while sewing and the weather could turn gloomy. There are however additional desktop daylight lights as accessories just in case yours does not have lighting.
Walking foot: These are good for sewing knits, quilts, bags and the likes. They help to keep the top and bottom layers of the fabric even.
Automatic thread cutter: This will help cut your thread automatically without you bothering with scissors.
Other useful features in vogue are LCD touch screen, computer-controlled automatic tension, embroidery, large harp, knee-lifter e.t.c.
Included accessories: the latest sewing machines often include a bobbin and presser foot. Some others include zipper foot, buttonhole foot, embroidery foot, storage area and a removable table
What are the benefits of a sewing machine?
The benefits of a sewing machine are numerous. From you being able to sew clothes to your own taste, easy repair of torn clothes, re-designing clothes and sewing your own curtains and beddings.
A quality sewing machine is easy and convenient to use, less stressful and gives greater results.
What sewing machine brand lasts longer?
Brother, Singer and Juki are brands that have been proven to last very long while delivering quality. These are brands are recommended for both domestic and industrial sewing machine.
What are the basic stitches needed in my sewing machine?
There are several stitches needed in sewing clothes although, the most basic ones are straight stitches, basting stitches, zig-zag stitches, satin stitches, stretch stitches, triple straight stitch, rolled edge stitch, edge stitching, cover stitch, blind hem stitch and buttonhole stitch. Each stitch serves its own function in the design of cloth or garments.
Although, for beginners, straight and zig-zag are the most needed.
What type of sewing machine is ideal for me?
Whether you are in Canada or anywhere else in the world, if you are considering getting a sewing machine then different things must be put in mind:
The purpose: This is based on what purpose the sewing machine will be serving. If you want a machine for sewing home decors, napkins and sheets then, any of the domestic sewing machines are ideal. However, if they will be used for huge tasks then, opt for an industrial one.
Available space: Will you be sewing in a tiny area or you already have an empty room for this? The available space will determine the size and portability of your sewing machine.
Budget: Stick to what you can afford so, there will be no surprises. However, do not buy obscure brands because they are cheap. You might end up disappointed.
Note that the difference between an ordinary sewing machine and its high quality ones are not only in the price. The difference are also in features, value and quality. Also, purchasing very expensive ones may not guarantee the delivery of all your needs.
Other things to put in mind is that metal structured sewing machines are more durable than plastic ones. Anyway, plastic ones are all over the market and they have been said to have a long life span as well. Also, make sure to get a sewing machine with a strong engine so as to enhance longevity.
How can I clean and maintain the sewing machine?
In order to maintain and keep clean your sewing machine, make sure that guidelines in your machine manual are followed at all times in order to avoid an accident and promote longevity.
Some essential tips for cleaning are given below:
You should clean and oil your machine from time to time depending on how often you use it.
Make sure you unplug your machine when it is time to quit.
Remove the throat plate (check your manual for direction.)
Brush out dust with a nylon brush. Make sure the brush is clean to prevent extra dirt from entering your machine.
After cleaning this, oil the machine with a sewing machine oil. You are to oil the parts that create friction.
Take an absorbable fabric to clear any additional oil on the body of your machine.
Install back the throat plate
Then, wipe and dust the entire body.
After these, your machine is ready for use.
Make sure to cover it when not in use to prevent dust. Most sewing machines now come with their coverings. This method will help maintain your machine and keep it in good shape.
Are sewing machines harmful?
The modern sewing machine work on electricity therefore, safety precautions must be taken while they are in use. Also, some sewing machines come with sharp moving parts that can injure. These being said, here are helpful tips:
Unplug your sewing machine when not in use.
Keep your fingers away from sharp objects on the machine.
Sew when you are relaxed not when you are tired.
Be cautious of where you place your cards. Do not carelessly drop them on the floor. Secure them with tapes if necessary to prevent pulling and damages.
Change and repair any damage.
Make sure it is unplugged before you make any changes or opening.
Avoid sewing over pins so as not to break your needles.
Service your machine at least once a year.
What can damage a sewing machine?
While sewing, you might make certain mistakes or overlooking some precautions which might cause damage to the sewing machine. Here are some problems your sewing machine might face and once you sense any, make sure to contact a repairer:
-Needle or looper thread breakage
- Skipped stitches
-Thread fusing
-Staggered stitches
-Imbalanced stitches
- Very noisy sewing and so on.
Are there electric sewing machines that do not make any noise?
If you do not like the squeaking noise of the electric machine, the good news is there are quiet ones on the market e.g Brother XM2701, Singer 9960, Brother Cs6000i. This will help you sow without making buzzing sounds. However, some factors can create weird noise in a sewing machine such as not being well balanced, dirt in the throat plate, the surrounding environment's intensity, uncontrolled sowing speed, bent or broken needle, engaged bobbin winder, tangled thread, loosed needle e.t.c.
Specialized mats have also been manufactured which helps absorb noise from your sewing machine and keep your machine in place.
What are the price ranges of a sewing machine in Canada?
Depending on the Canadian Dollars you have saved, a quality sewing machine based on our pick is pocket friendly. The singer 1304 also makes our budget choice.
Do the sewing machine come with a warranty?
If you are purchasing a highly-priced sewing machine then, you must consider if it comes with a warranty. Reputable stores grant warranty to their customers. With a warranty, you can return the sewing machine in case you need a repair or change.